PORK AND SAUERKRAUT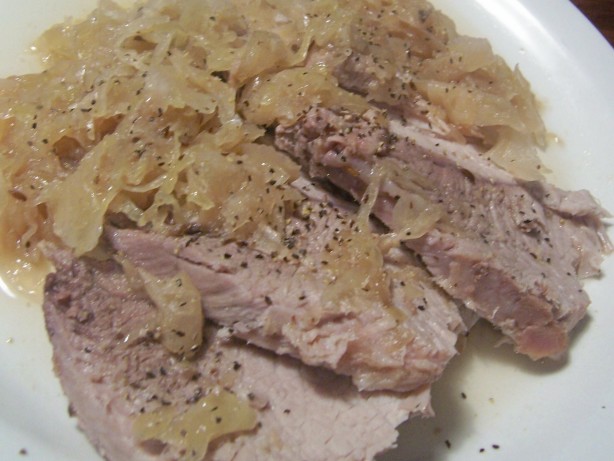 A traditional Pennsylvania Dutch meal served as a Traditional New Year's Day dish to bring you good luck throughout the year
In a Crock-Pot:
2Lbs of Sauerkraut
3lb pork loin
(Pork chops can be substituted but they take much less time to cook so add only after the Sauerkraut is starting to become soft)

1. Place a bed of Sauerkraut in the bottom of the Crock-Pot
2. Lay the Pork Loin on this bed of Kraut. (Please note if the loin is bound or contained by a rope mesh it is best to leave this on the meat for after cooking. When done, it is going to want to fall apart on its own.)
3. Place the remaining Sauerkraut over the Pork Loin, adding all the juice from the Sauerkraut container (Bagged or Sauerkraut in a Jar are the best. Canned Sauerkraut tends to be precooked and ends up with a slightly metallic taste to it.)
4. Place Crock-Pot on low for 6 hours. Then serve. (Note You are going to need two Slotted Spoons to fish out the Pork it wants to fall apart on its own.)
Traditionally this meal is served with Mashed Potatoes and Corn. (Corn over the Mashed Potatoes or on the side is always a hot topic of debate) the pork goes on beside the potatoes and the Sauerkraut goes over the Mashed Potatoes.
Buttered rolls are also traditionally served with this meal.
Choice of beverage is up to you but personally Beer goes well with this (It is a dish with German roots after all!)
Desert
Apple Crisp
5 cups sliced, peeled cooking apples
4 to 8 tablespoons granulated sugar
2 cups regular rolled oats
1 cup packed brown sugar
˝ cup all-purpose flour
˝ cup butter
˝ teaspoon ground nutmeg, ginger, or cinnamon
Place fruit in 2 quart square baking dish. Stir in the granulated sugar. (I mix in a little extra Cinnamon into the sugar before sprinkling, just like you do for a Apple pie)
For topping, in a medium bowl combine the oats, brown sugar, flour, and nutmeg, ginger, or cinnamon.
Melt the butter in a separate bowl and then cut the butter into the dry ingredients until mixture resembles coarse crumbs.
Sprinkle topping over filling.
Bake crisp in 375 degree oven for 30 to 35 minutes or until fruit is tender and topping is golden. Makes 6 servings.
When I make this I make 5 quarts at a time, it seems to magically disappear. It requires 3 batches of topping. For a crispier topping, use 2˝ cup of Oats per batch of topping. I have learned that you can make two batches of topping at the same time with three it becomes too stiff to properly mix. (I only use Cinnamon as my spice)
Keeping the shiny side up
Sincerely and Fraternally
Noel "Conan" Wenrich PM
President
Raised and Squared Chapter
PA Widows Sons